---
​We are situated just north of the Arctic Circle in three locations, both rural and urban.
We have highly skilled employees and we promote equal opportunities for men and women.
We like to think of ourselves as being just the right size. Our hospital is large enough to give varied and interesting clinical experience and yet small enough for us to get to know each other. Nordland Hospital is the second largest in the North of Norway, a modern teaching hospital with 4,000 highly qualified staff and several hundred students, serving a population of 136,000.
The city of Bodø, the capital of Nordland County, is the location of the main General and Psychiatric hospitals and there are two local hospitals, in the Lofoten and Vesterålen districts.
We aim to meet and treat our patients within both general medicine and mental health, in a friendly atmosphere with staff from Norway and 40 other nations. Encouraging research is a major priority for us, and we have several PhD. candidate's active at any one time. We participate in research projects at both national and international levels, and our ranking for publications is relatively highly.
The hospital has its own library, which gives on-line access to a large number of international journals, and well-qualified library staff ably assist us.
Patient safety and quality of service has been a target area for us for some time, and this has recently been acknowledged through a national award.​

​

As a teaching hospital we welcome several hundred students a year, from various disciplines, as well as encouraging and supporting improvement of skills and knowledge we offer good training opportunities and supervision to our staff. Medical students do the two final years at Nordland Hospital. Our local university offer further training for nurses. The hospital has special grants for this.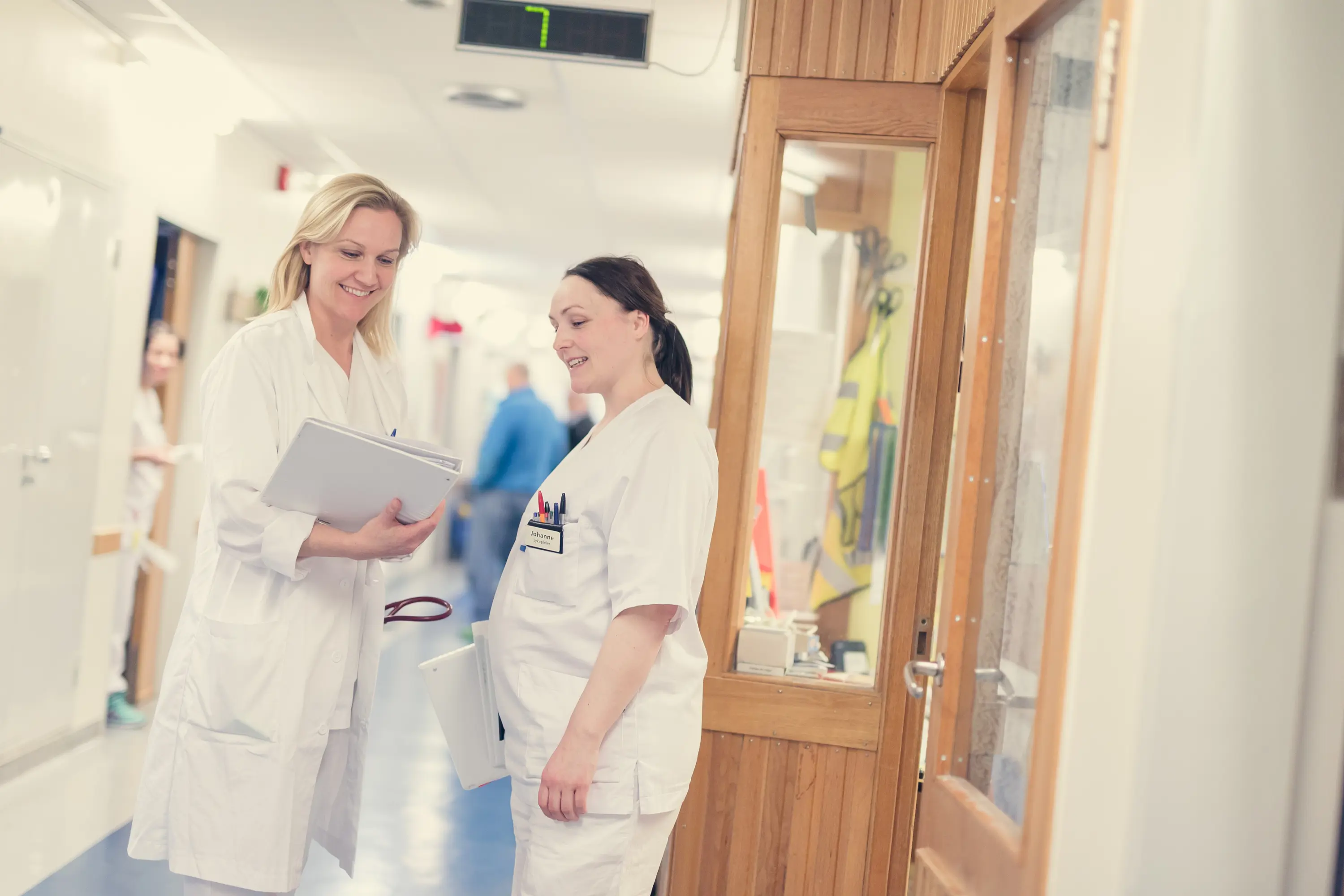 A language course to enable you to speak and understand Norwegian – we even have our own language school

A language course for your partner
A place to live
Relocation funding

Requirements. Here is what you need to know before you move to Northern Norway to work with us.
​Language. You must have good Norwegian skills. Basic English is also preferred. Here is a link to a free program for language training:  LearnNow
Authorisation for health personnel
All health personnel must be authorised by the Norwegian Directorat for Health. Please see their website for information on how to apply.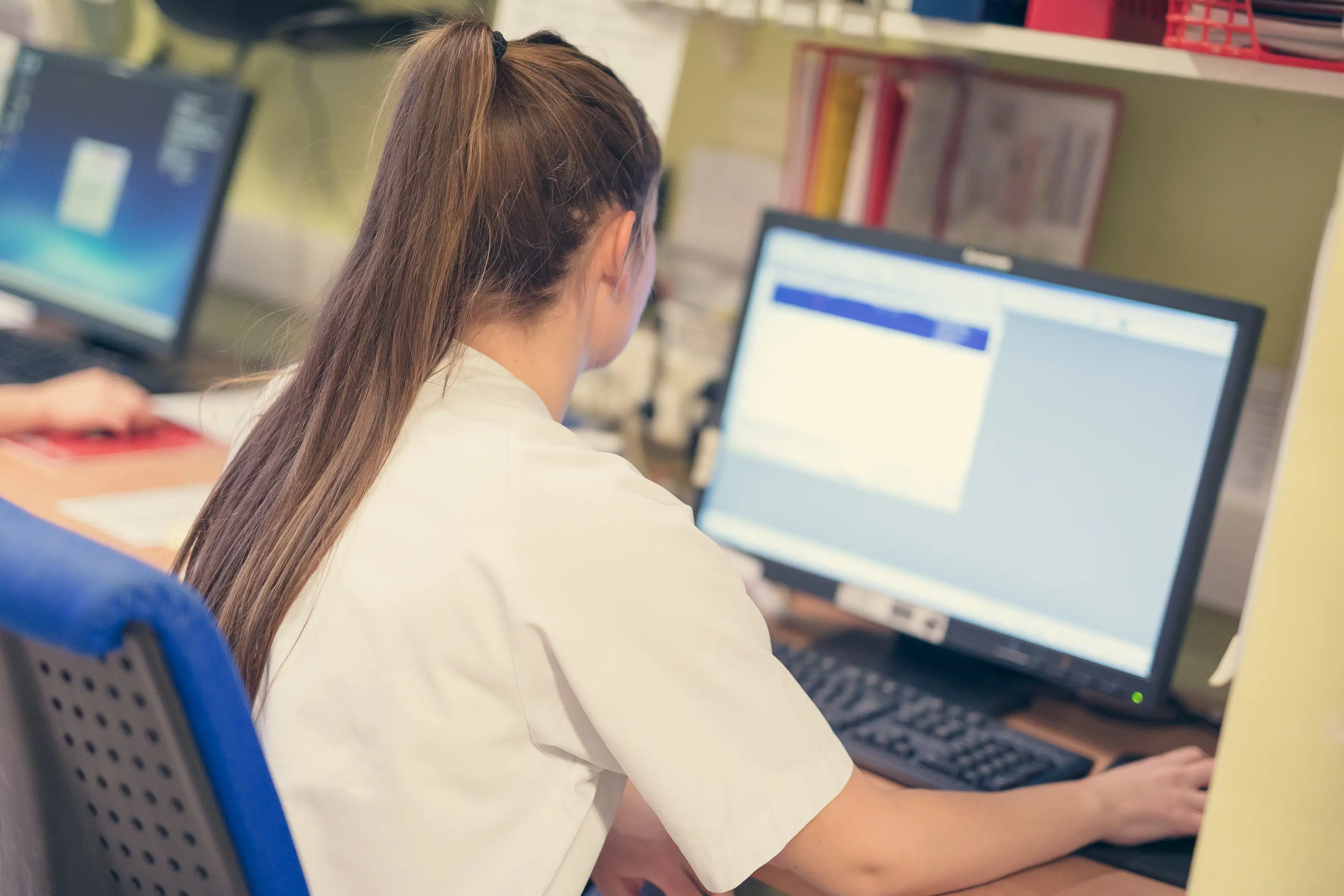 To work in Norway you need a residence permit from The Norwegian Directorate of Immigration.
The Norwegian Directorate of Immigration
You have to go to the local tax office to be issued with a standard personal ID number. You will then receive a tax deduction card.
For importation of cars and other things see the website of The Norwegian Customs and Excise.
Bank account. To open a bank account bring your passport and personal ID number to a local bank office.

Your employer registers you with the National Insurance Service. If you are entitled to child benefit (if you have children under the age of 18) you need to apply at your local NAV office. You must have a police certificate when required, for example for work involving children and mentally disabled persons. You must submit documentation that you have received necessary vaccinations. If you do not find what you need here, please visit this website:
New in Norway​

Adjustments to accommodate diversity and policy:
Employees are our most important resource. We strive to attract the very best professionals, and we will make adjustments so that all employees will feel comfortable in the workplace and perform at their best.

The health enterprise shall ensure that diversity in the population is reflected to the greatest extent possible in its hiring practices. Therefore, one of our personnel policy objectives is to achieve a balanced mix in terms of gender and age, and to recruit qualified persons with immigrant backgrounds.
​


In Norway we have predictable and regulated working hours, 38-40 hours a week. We have annual pay revisions, regulated salaries and we consider our hospital to be competitive on pay.
There are provisions for paid sick leave if you become ill yourself, and also if your young children are ill. We have 54 weeks maternity/paternity paid leave, of which 10 weeks are reserved only for the father. Working relationships in Norway are not overly hierarchic, and the choice of leaders is not dictated by profession. We are fairly informal and usually address each other on first name terms, even when talking to the boss. Women expect to be shown the same respect as men, and we promote working together in multidisciplinary teams. We don't always communicate in a direct way and what at first may sound like a request may actually be an order.
If you are a nurse and
Someone who – maybe together with your partner - is seeking new challenges and wants more time with family and friends? Then you will exchange long working days and commuting with a social life and activities in unique surroundings
Someone who is attracted to living in Northern Norway? Then you will enjoy living and working with informal people who take advantage of living near to nature
Someone who likes working in teams, together with other professionals? Then you will enjoy being with highly skilled and dedicated colleagues
Someone who already speaks good English and wants to learn Norwegian? Then you can start by doing our online free language training
Someone who likes new opportunities and is willing to contribute to our hospital? We will give you the opportunity to develop and train
Nordland Hospital has a long tradition of employing people from different countries around the world. At the moment we have employees from about 40 nations working here. We understand that recruiting people from abroad requires something extra, as living and working in Northern Norway is different to working in central Europe. For this reason we prefer to spend a little more time and effort on foreign recruitment to ensure that we have exchanged the correct and necessary information before you start to work for us.
Interview
Prior to a formal interview we would like to have read your complete CV and to have had an informal meeting. This could be at a recruitment fair or even via telecommunication like Skype. If we both agree to go on from there we will invite you to a formal interview at our hospital. Here you will be able to meet colleagues and see your potential place of work. If you accept an offer of work, you will need to apply for Authorisation and Licence and complete various documents from our hospital. Our staff can provide you with help if you need it.
Language courses
Moving expenses and housing. The hospital will cover some of the cost of moving including airfares and the transportation of furniture and goods
The hospital will assist in finding you a suitable place to live.
Most things are near
Most facilities are nearby each other - schools, work, kindergarten, shopping centres, sports clubs- and Bodø is only 5 hours away from London, Paris and Berlin by plane. We love the outdoor life, with mountaineering, skiing and sailing as well as hiking in the hills, and all this is at our doorstep. We also love the arts and there are a number music, art and theatre festivals during the year, attracting performing artist from all corners of the earth and there are several art galleries and concert venues.

Family friendly
Norway is known as a family-friendly country. It is common for both parents to work. We have maternity and paternity leave during a child's first year, and then kindergarten is available until school at the age of 6 years. Children in Norway have the right to schooling for 13 years. If your child is sick and under 12 years, you have the right to paid leave. Most places offer a good variety of after-school sports and cultural activities for children. Good local schools also provide a variety of after-school activities. We have a safe environment for play and outdoor activities.
Norwegians like to talk about climbing hills and going skiing, but don't worry if this is not really your thing – they also like going to cafés and spending time with families and socialising with friends.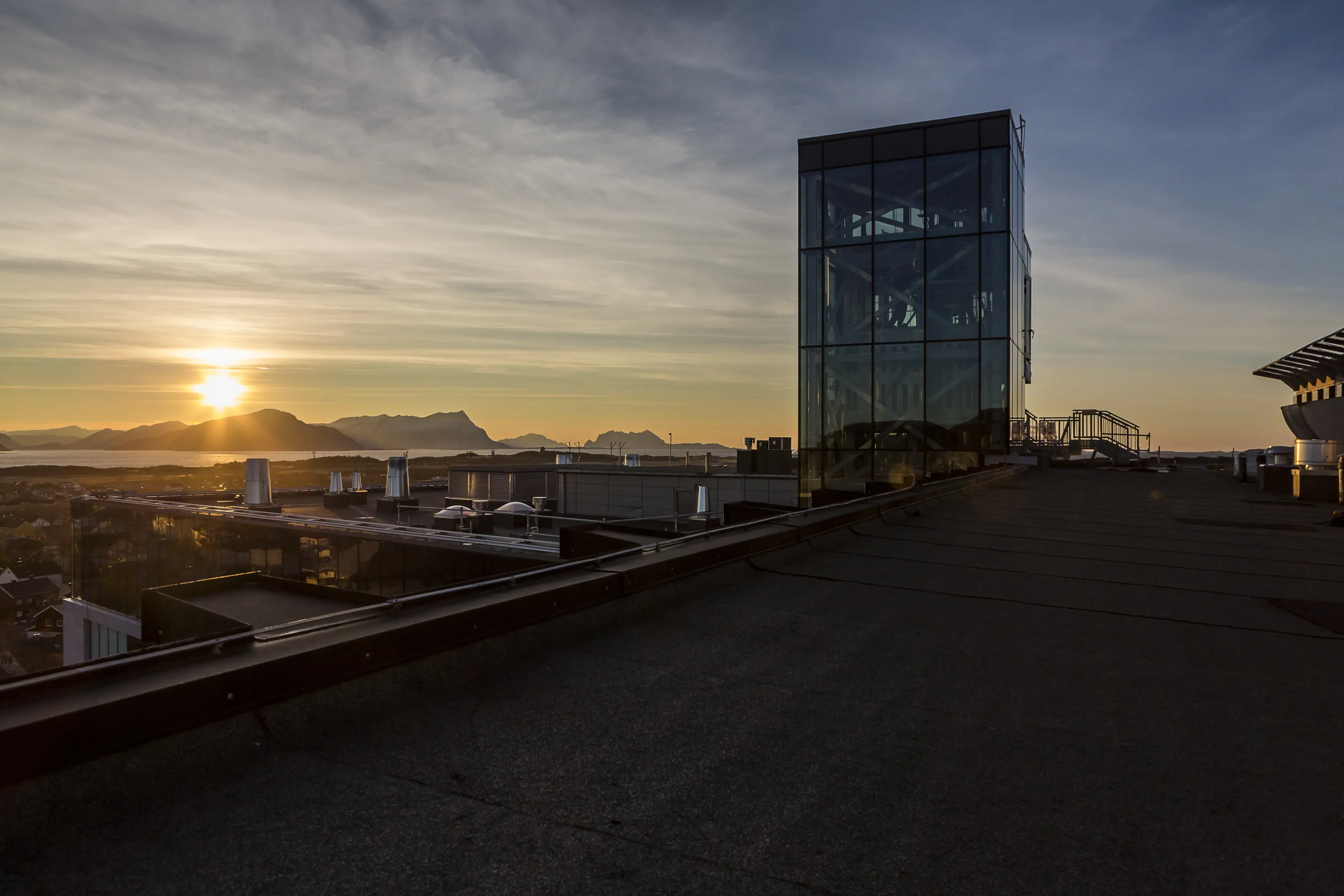 Situated on the tip of the Bodø peninsular, the city centre lies friendly and open, towards the sea. Here you will find one of the country's best student environments and it is easy to enthuse about the Bodø dwellers' hospitality and friendly nature.
Bodø is well known for its spectacular nature and strong contrasts. From the scintillating midnight sun to the magic of the Northern Lights in the darkness. From a sea safari along the most beautiful coast in the world to a skiing Eldorado near the Swedish border. From an urban, pulsating centre to quiet rural areas. You can make a good life here in Bodø!
Communication
Very good communications makes the travel to and from Bodø quick and easy. The airport is located near the city centre where you will find the railway, express boat services, ferries, buses and the world famous coastal steamer 'Hurtigruten'. The city is a national hub for transport, tourism, business, education, and culture. Here you also find international attractions such as Kjerringøy old trading station, the world's strongest maelstrom Saltstraumen and The Norwegian Aviation Museum.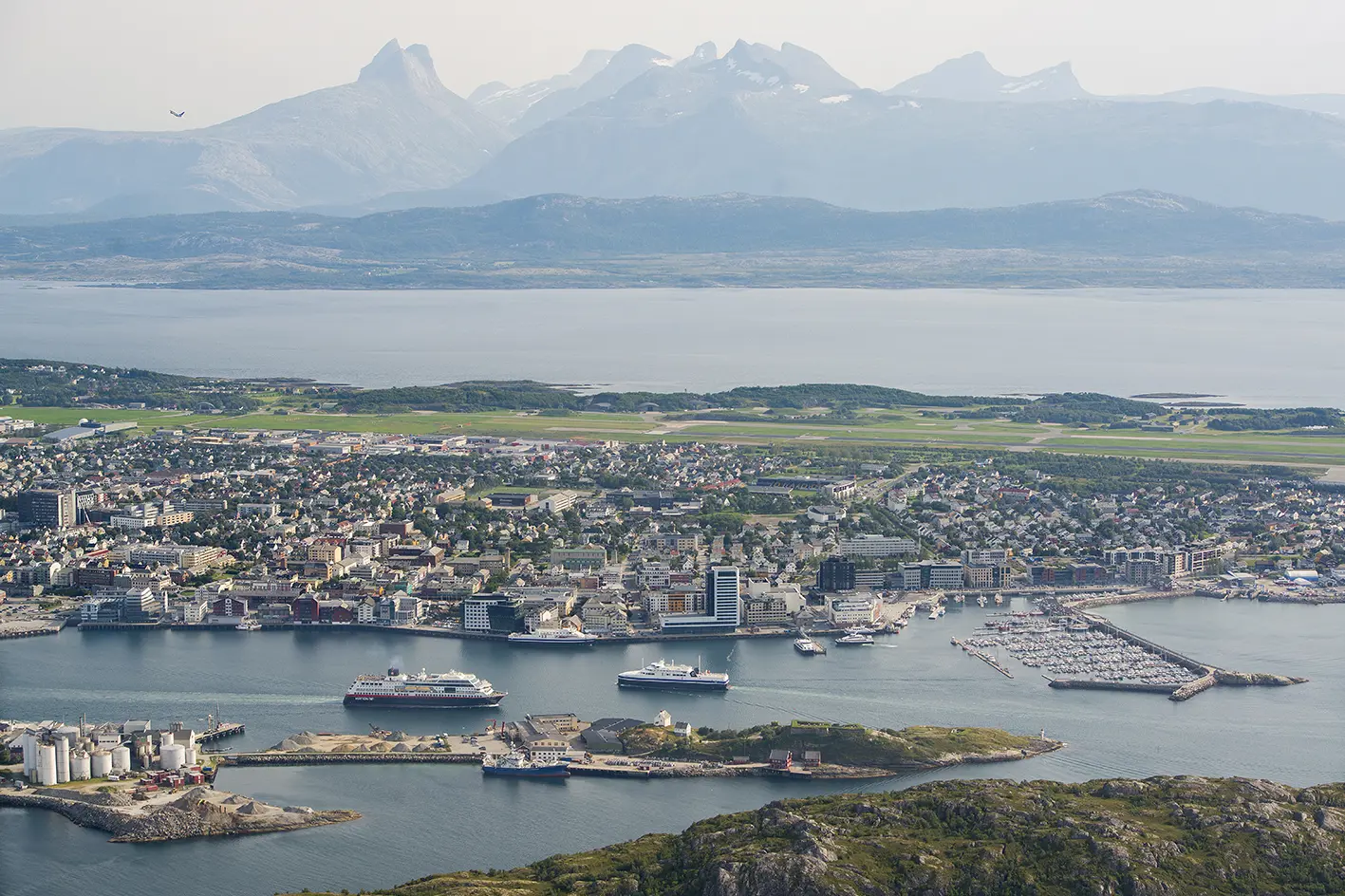 Town and country
Closeness to the countryside and the sea is one of the unique things about Bodø. Here you can combine urban café culturewith salty sea rafting and mountain walking. You can also choose between concerts and exhibitions – and you can jump right into your kayak or onto your off-road bike. With everything nearby you get more time – more time for living!
During the last few years the city has grown substantially, thanks to expansive planning and development. We have a new university. The football club Bodø Glimt is in Norway's premier league. Stormen concert hall and library are our new cultural centre in the middle of the town. Cultural life flourishes: Nordland Music Festival Week, The Park Festival, Bodø Air and Space Festival, Aspmyra Live Rock Festival, Bodø Hardcore Festival, Nødutgang avantgard music festival as well as many other cultural events – all this shows the diversity and dynamism of Bodø's cultural life.
You'll never forget your first approach to the Lofoten Islands by ferry or plane. The islands spread their tall, craggy physique against the sky like a spiky sea dragon, and you may wonder how human beings can eke out a living in such seemingly inhospitable surroundings. The beauty of this district is simply staggering.
Spot in the middle of it all lies the hospital, giving service to 24.000 inhabitants
The Lofoten islands are a place where you can forget everyday life and experience something totally different. The impressions of the nature are strong and plentiful. Here is the place where sun never sinks below the horizon in the summertime and where you can experience closeness of the mountains to the sea.
Commerce
However, Lofoten is still very much commercially alive. Each winter the meeting of the Gulf Stream and the icy Arctic Ocean draws spawning Arctic cod from the Barents Sea. This has brought fishermen from the whole of Norway to fish here for hundreds of years. For centuries it has been the most important area for fishing in Norway, and it is particularly famous for the export of stockfish or baccalao, used many Mediterranean cuisines.
Lofoten has three small airports and several ports of call connecting it to the main land and to the rest of the world. The main islands of Austvågøy, Vestvågøy, Flakstadøy and Moskenesøy, are separated from the mainland by the Vestfjord, but they are connected by road bridges and tunnels, making getting around quite easy. On each island there are sheltered bays, sheep pastures and picturesque villages.
Activities
Lofoten is a great place for many outdoor activities, from hiking and climbing to surfing. It hosts music and art festivals with performers from all over the world. It is also loved by artists, and you can find galleries, sculptures and good restaurants in the most unexpected places.
A 20 minute flight north from Bodø, across the fjord, lies Stokmarknes Hospital in beautiful Vesterålen. This is a small hospital in a new and modern building. Our hospital services include an accident and emergency unit, general surgery, maternity ward, rehabilitation and psychiatry.
Vesterålen is a group of islands to the north of Lofoten. These islands are connected by bridges and are linked by road to the mainland. Vesterålen comprises six municipalities: Andøy, Bø, Hadsel, Lødingen, Sortland and Øksnes. There are two airports: Andøya Airport at Andenes and Stokmarknes Airport at Skagen. The coastal steamer calls at Risøyhamn, Sortland and Stokmarknes. Vesterålen also boasts the spectacular Trollfjord, which lies in the Raftsund Strait.
The nature
Vesterålen has little artificial light interference and is therefore perfect for observing the Northern Lights. One of the main attractions is the whale safari. Because Vesterålen consists of many large and small islands, the area is ideal for sea-kayaking. There are beautiful, calm skerries naturally shielded from the open ocean, but for those who are more daring, the sea side of Vesterålen is quite fantastic!
Large amounts of winter cod ('skrei') are landed here from January to April. There are also abundant lakes for ice-fishing - and rivers for angling during the summer. Activities are largely nature-based, such as nature safaris, paddling, bicycling, fishing and trekking.


Sist oppdatert 30.09.2021